The Westin Dragonara Resort
An Award-Winning Hotel
Hotel Quality Award
by Jet2Holidays
Jet2holidays, the UK's third-largest holiday operator, has awarded a Hotel Quality Award to the Westin Dragonara Resort.
The annual Hotel Quality Awards are awarded to hotels that get great feedback from customers in Jet2holidays' destinations. Hotels can only win an award if they receive high satisfaction scores and low numbers of complaints in customer surveys.
With its modern décor and extensive range of restaurants and bars, it's easy to see why the Westin Dragonara Resort is so popular with Jet2holidays customers from the UK. This luxurious hotel features outdoor pools with breathtaking sea views, while it even has an on-site casino.
The Westin Dragonara Resort is also part of Jet2holidays' Luxe collection, which consists of four and five-star hotels that have stylish décor, great service and an impressive range of facilities.
Zoe Towers, Head of Product at Jet2holidays, said: "The Westin Dragonara Resort had excellent feedback from our customers throughout 2015. We were delighted to present the team with a well-deserved Hotel Quality Award."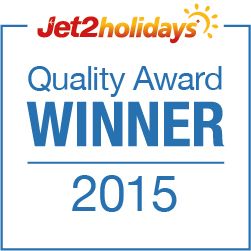 Best 5 Star Hotel in Malta
TripAdvisor Travellers' Choice® 2015
TripAdvisor has published its annual Travellers' choice results for 2015, representing the reviews of millions of guests worldwide. The Westin Dragonara Resort, in St Julian's, was recognised as the best 5 star hotel in Malta, and the second best hotel in all categories. The Resort was also chosen as the best Luxury Hotel and listed in the top 5 best hotels offering the best service on the Island.
On sharing the news with the Hotel's owners and associates, General Manager Michael Camilleri Kamsky said:-
"We are all extremely proud of the results achieved in having been voted Malta's number one five star hotel in the most important categories of 'Luxury', 'Top Hotels' and 'Best Service'. The Westin Dragonara is truly the five star TripAdvisor Travellers' Choice® 2015 Winner. These are the results we have all been striving for and having been voted by actual travellers is even more gratifying."
Mr. Camilleri Kamsky was full of praise for "the best team on the Island" for achieving "their best ever TripAdvisor results". These results are a certificate that The Westin Dragonara Resort is truly the Hotel where nothing is overlooked but the sea…